Fright Haven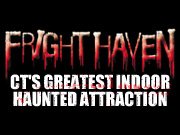 Fright Haven is CT's largest, scariest & greatest INDOOR haunted attraction "back from the dead" with 20,000 square feet of scares, chills and thrills. The only world-class professional haunt between New York and Central CT, Fright Haven has been resurrected and is in its 4th season after laying dormant for nearly a decade.

THREE ALL-NEW ATTRACTIONS READY TO SCARE YOU THIS HALLOWEEN SEASON
PSYCHO WARD 13 ~~
Slip out of your mind and into the dark world of Psycho Ward 13, an asylum with questionable methods of treating its patients. For fifty years, the doctors conducted heinous experiments on the mentally deranged, stripping them of their humanity and taking many lives - accidentally? Some survived and all it took was one unlocked cell to end one reign of terror, and for a new one to begin. Free at last, the inmates have taken over the ward and have started conducting their own experiments on the remaining doctors and nurses and visitors. With mangled bodies strewn across rusty operating tables, bloody torture devices hidden around every corner, and the the buzz of electroshock instruments ringing in your ears you just might lose your mind, too. Maybe you will be their newest patient.

CABIN IN THE WOODS: REDNECK RAMPAGE~~
If you've managed to escape Psycho Ward 13, with simply the psychological scars to show for it now what? You find yourself in a dark forest, cold air biting at your neck and the distant shrieks of asylum inmates behind you. In the upside down, a light may appears. You'll rush towards it, seeking help, but there's no kind neighbors. Expect to be greeted by contortionist backwoods inbreds, faceless ghouls with toothless grins and the smell of burning flesh. A clan of cannibalistic rednecks have taken over the land, and they are easily disturbed. They don't take kindly to intruders. To continue on, however, you must make it through the Cabin in the Woods. Find your way through their chaotic junkyard and putrid swamp, or risk being caught and cooked for dinner.

CARNIVAL OF LOST SOULS~~
The Carnival of Lost Souls is like no amusement park you've ever visited. The carney barkers beckon you to step right up, as you're invited to take a look into this dark carnival of a brain. This neon wonderland features the creepy crawlers and sideshow freaks that occupy only a the most deranged hallucinogenic nightmare. Your imagination will run wild with haunted thoughts, you'll lose all contact with the real world, and the 3-D images will blow whatever mind you have left. Expect to meet some carnivorous carneys, killer Klein's and harlequin horrors along the way. No guarantees you will not get sucked into the vortex of vapidity, and actually become one of the permanent lost souls of the carnival.

YOU'LL BE TOO SCARED TO SCREAM!
WARNING: Due to the intensity and fear factor of FRIGHT HAVEN, those with weak hearts, health conditions, young children and pregnant women are advised that you may enter under your own risk. We are not responsible for your future nightmares. For your well-being, do not visit FRIGHT HAVEN alone. Be sure that you are accompanied by friends, family and those you trust to keep you safe from the evils and the unknown contained within the haunted walls of this attraction.

Fright Haven opens for six weeks of Thursday-Sunday evenings from mid-September through the first weekend in November. All attractions are indoors, so unlike outdoor haunts, the attraction will be open rain or shine (the more thunder and lightning the better!) and is completely handicapped accessible.
Latest Reviews
There are no reviews for this listing yet!