Hocking Hills' 47th Annual Famed Winter Hike Slated for Jan. 21
November 26, 2019 By Chris B.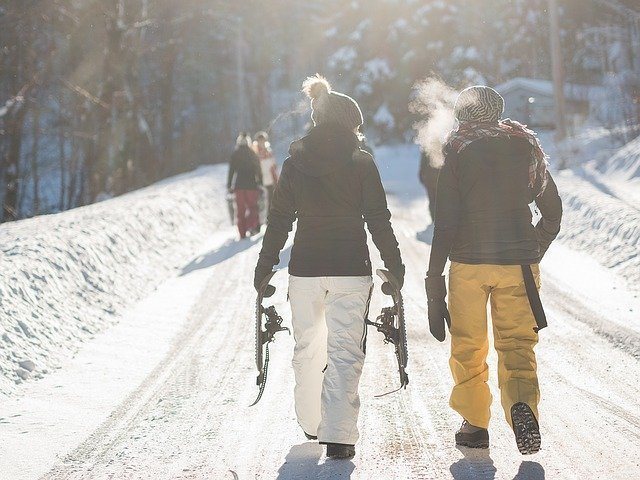 The six-mile trek from Old Man's Cave to Ash Cave draws thousands of hikers each year to experience southeast Ohio's most spectacular scenery.
Photo by:
Free-Photos
January 21 is the date for 2019 Annual Winter Hike. The six-mile trek from Old Man's Cave to Ash Cave draws thousands of hikers each year to experience southeast Ohio's most spectacular scenery. The hike features continuous starts from 9-11 a.m. Hot bean soup is served midway at Cedar Falls for a donation and a shuttle bus will return hikers from Ash Cave to the parking lot at Old Man's Cave.

Hikers are advised to wear layered clothing and good traction footwear, as snow and ice can make the trail slippery. They're also encouraged to bring a camera to record the region's winter beautify; and to post those pictures and videos to Facebook and Twitter.

With the Hocking Hills offering everything from an easy hike through Ash Cave, to more lengthy treks like the annual winter hike, and the region's many other gorgeous rock formations, the Hocking Hills is among the Buckeye State's most popular winter destinations.

"So many people make New Year's Resolutions that include getting in shape or enjoying life more, there's nothing better than a Hocking Hills hiking getaway to help them achieve those goals," said Hocking Hills Tourism Association Executive Director Karen Raymore. "Winter is a truly magical time in the Hills and with a little preparation, visitors will enjoy a dazzling winter wonderland marked by soaring cliffs and gorges and waterfalls that freeze into beautiful crystal formations.
In addition to recommending that hikers stop by the Hocking Hills Regional Welcome Center for trail maps, travel suggestions and to borrow a Flip Video Camera, Raymore and the experts at the Hocking Hills Tourism Association have compiled the following tips for winter hikers:
Stay on the trail. Hocking Hills naturalists report that accidents only occur when hikers leave the trail.

Choose the right footwear. If your feet are cold your whole body will be cold. Wear waterproof hiking boots designed for cold weather that offer good traction in snow and ice. Keep metal cleats in your backpack and attach to your boots if you encounter ice on the trail.

Wear multiple pairs of socks -- as many pairs as you can comfortably fit with your boots on. You can always take some off if you get too warm. Carry extra dry socks in a waterproof bag in your backpack, just in case.

Use trekking poles or cross country ski poles for extra stability.

Stay hydrated. Pack water in your backpack. Energy bars are another good idea.

Cover your hands and face. A ski mask covers your entire face, or can be rolled up to just cover your head and ears. Wear insulated gloves and carry an extra dry pair.

Layer your clothes. While hiking you may become warm. Multiple layers allow you to remove items as needed. If possible, carry extra dry thermal underwear in your backpack.

Know the weather forecast and trails. Carry a compass, map and cell phone with you. Your cell phone may not work in all areas, but it's a good idea to have one. A hand-held GPS unit is also a great idea.

Don't hike alone. It's always more fun with friends. If you must hike alone, be sure to tell someone where you are hiking and what time you expect to finish.

Don't forget your camera. Winter in the Hills provides dramatic scenery.
Located 40 miles southeast of Columbus, Ohio, Hocking Hills offers once-in-a-lifetime experiences that make every day feel like Saturday, with plenty of Admission: FREE activities. The region boasts a wide variety of affordable lodging, from camping, cabins and cottages to hotels and inns. In addition to hiking trails, parks and forests, the Hocking Hills is the zipline capital of the Midwest, with 50 ziplines being offered via three distinct guide services. Unique gift and antique shops, canoeing, horseback riding, golf, spas and more add to the allure of the Hocking Hills as the perfect place to unplug. Complete traveler information is available www.1800Hocking.com or 1-800-Hocking (800-462-5464).