Pocono Mountains Family Resort Gears up for a Spooktacular Halloween Season
July 9, 2019 By Chris B.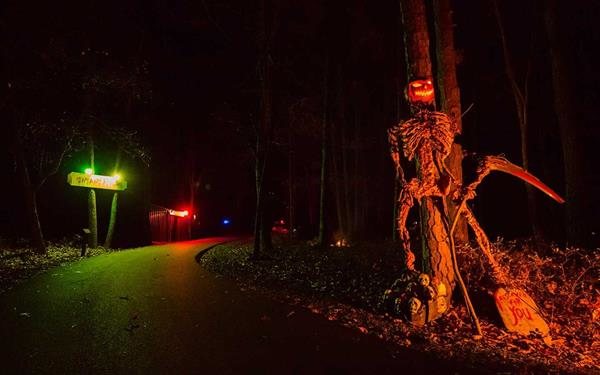 Come October, Woodloch Pines basks in the month's spooky spirit and rolls out the fun.
Photo by:
Woodloch Pines/globenewswire.com
Despite being in the middle of the summer season, the Northeast anticipates the beautiful fall season, a showcase of unrivaled beauty. When temperatures drop, leaves change to vibrant autumnal hues, and festive energy infuses the air as Halloween approaches to kick off the holiday season. Even adults can't help but muse about their younger years when Halloween meant dressing up and heading out in the neighborhood, pillowcase in hand, ready to be filled to the brim with delicious treats.
This time of year is especially exciting for Woodloch Pines, an award-winning, all-inclusive family resort located in Pennsylvania's Northern Pocono Mountains. Come October, Woodloch's Activities Staff basks in the month's spooky spirit and rolls out the fun so that guests, no matter their age, have the opportunity to enjoy some Halloween hoopla. This fall, guests can look forward to:
"Halloween Wars" - A team versus team event that has "bakeries" competing in both resource management and creativity all under time constraints.

"Boo-Lympics!" – The family resort's spin on Olympic games with a Halloween twist

Halloween Scavenger Hunt – Search for clues across the expansive property and try to win the famed Woodloch Gold Medal

Haunted Hayrides – Perfect for those looking for a scare, these wagon rides navigate Woodloch's nature trails taking guests through horror-movie-themed scenes

The Escape Room – Woodloch guests can look forward to this team-building adventure game that has been gaining popularity in recent years. Groups of 8 to 10 players will need to solve a series of puzzles using clues, hints and strategy during a set amount of time in order to unveil the secret plot and "escape" from the haunted setting.?

Halloween parade, Trick or Treating, and parties for guests and staff to flaunt their favorite costumes

Some of the family resort's most popular amenities -- go karts, zipline, climbing wall, archery, bumper cars, game shows and trivia, and the Indoor Pool Complex complete with slide and splash zone
"Fall is absolutely beautiful in the Poconos. The weather is mild, perfect for enjoying the outdoors. The leaves turn gorgeous colors and make our property look even more stunning than usual," said Joey Ranner, Woodloch's Activities Director. "And it should come as no surprise that we love Halloween here -- the costumes, the candy, the creativity, and of course the craziness! We look forward to celebrating the holiday in our own special Woodloch way each and every year."
Woodloch's unique brand of fun extends into November and December as the Poconos resort gears up for the splendor of the holidays, celebrating the harvest bounty at Thanksgiving and with festive decorations around Christmastime. As an added bonus, late fall and early winter weekends feature some of the family resort's lowest prices of the season with rates starting at $160 per adult, per night.
About Woodloch Pines Resort
Creating a magical experience for families since 1958, Woodloch Pines Resort's signature warm hospitality keeps guests returning year after year and offers a truly unique all-inclusive family vacation experience fitting for everyone's taste. An award-winning family resort, championship golf course and sister property featuring a luxury destination spa are just 95 scenic and convenient miles from New York City nestled in the Pocono Mountains Lake Region.