In Search of the Halloween Spirit - Spooky Fun in the Tennessee River Valley
August 19, 2019 By Chris B.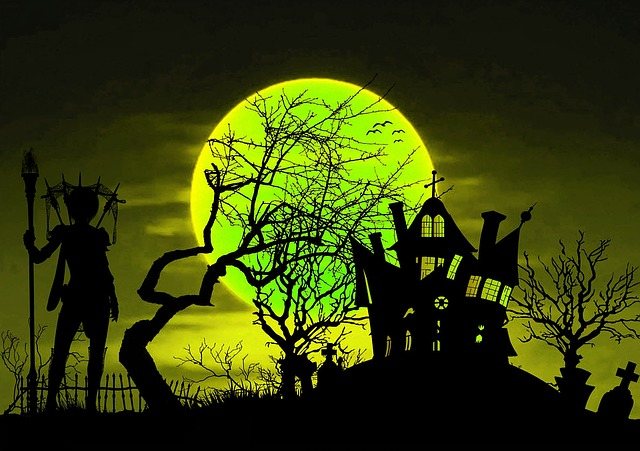 For those in search of the Halloween spirit, the Tennessee River Valley Mapguide provides information on ghostly tours and other ghoulish fun from a local's perspective.
Photo by:
Barroa_Artworks
Attractions across the Tennessee River Valley will be celebrating Halloween this year with a variety of activities appealing for adults and children. Whether it is guided ghost tours, corn maze fun, a lantern tour or picking pumpkins, the Tennessee River Valley offers plenty of interactive Halloween fun.
The Tennessee River Valley has gathered some spooky sights and haunted tours for those in search of the Halloween spirit.
Chattanooga Ghost Tours, Inc., Chattanooga, Tenn.
Chattanooga Ghost Tours, Inc. offers several different ghost tours and cemetery hunts, with dates continuing pass Halloween and into December. Choose from the award-winning original tour or the new Murder and Mayhem Walking Ghost Tour. For the serious thrill seekers, try a ghost hunt. The Ultimate Ghost Hunt includes the SLS viewing system, a revolutionary piece of equipment first seen on Ghost Adventures that provides an opportunity to see ghosts nearby. This ghost mapping system utilizes a camera and computer to capture moving visualizations of spirits.
With each tour, guides share documented tales of downtown's ghosts, as well as Chattanooga's more entertaining history, and point out the best places to get ghost photos. Some tours are geared to adults only and are not considered child-friendly. Tours last approximately 1-½ hours and range in pricing from $11 to $20 per person.
Acres of Darkness - Haunted Woods and Family Adventure, Chattanooga, Tenn.
Acres of Darkness is situated in Audubon Acres, a 130-acre wildlife sanctuary located in Chattanooga, Tenn. Visitors to this naturally terrifying haunted attraction are faced with the dangers that lie in a forest.
Acres of Darkness is fun for the entire family with activities and entertainment for all ages. Visitors can play it safe on the kiddie trail or brave the Haunted Forest Trail for more spooky fun. The family area includes a hayride, kid's activities, a black light maze, and inflatables. Additional activities include roasting a s'more and sipping on a cup of cocoa by the bonfire or journey to the depths of the forest for the fright of your life.
Admission is charged and all proceeds benefit the environmental conservation and education programs of the Chattanooga Audubon Society. The attraction is only open in October on Fridays and Saturdays (family area 7:30 to 9:30 pm and haunt trails 8:00 to 11:00 pm) through October 27, 2019.
Oakes Farm, Corryton, Tenn.
The combination of agriculture and entertainment has been a winning combination at Oakes Farm for the past 17 years. Oakes Farm's Corn Maze, Pumpkin Patch and Haunted Trail of Doom Corn Maze offers hours of fun from its many outdoor farm-style attractions. The highlight of the farm is the 9-acre corn maze. Professionally designed and cut, the corn maze features bees and sunflowers and can take up to 1-½ hours to complete.
Additional activities include a hayride through fields and woods to the pumpkin patch, animal exhibits, a kid's maze, hay maze, mine shaft giant slides, pedal karts, farm scene investigation game, steer roping and inflatable kid's jumpie plus more. Food concessions are also available to complete the trip and for those looking for decorative items to purchase and take home, there are over 20 varieties of pumpkins, gourds and squash, corn stalk bundles, straw bales, fall flowers, scarecrows and wreaths to choose from.
The farm is only open Thursdays through Sundays until the end of October and admission is charged.
Ruby Falls Lantern Tours, Chattanooga, Tenn.
With a lantern tour, experience Ruby Falls in a new light. During this specialty tour, discover the wonder of the cavern like Leo Lambert in 1928. The cavern and its trail are illuminated only by hand-held lanterns. Rock formations and shadows take on new intriguing dimensions as guides share stories exclusive to this tour. The highlight of the tour is when the falls are illuminated through the use of a lantern and pulley system.
Tours are available on Friday nights from now until the end of November and admission is charged.
McGee Farm, Florence, Ala.
Each year, McGee Farm welcomes thousands of visitors to its pumpkin patch and to celebrate the Halloween holiday season. From now until October 31, McGee Farm is open daily to the public and everyone is invited to pick pumpkins and experience on-the-farm fun, country cooking and other family-friendly activities.
Located in Florence, Ala., McGee Farm is now in its 22nd year of opening the family farm for visitors to enjoy. Visitors have a choice of picking their orange treasure straight off the vine from the pumpkin patch or from a pile that have been pre-picked. Over 25 varieties of pumpkins are available to choose from, with some growing up to 200 pounds and some as small as a child's hand. Along with pumpkins of all shapes and sizes, visitors are treated to farm-life activities such as playing in hay, taking a scenic tractor-drawn wagon ride, a barnyard bounce and feeding chickens.
After shopping for pumpkins and playing on the farm, guests are invited to stay and enjoy a bite to eat at The Kitchen at McGee Farm. Home-cooked country favorites such as white beans and cornbread, soups, muffins, homemade treats, pies and more are available to purchase.
Beginning in the southwest corner of Virginia, the Tennessee River Valley region cuts through the mountainous areas of Tennessee, North Carolina, and Northern Georgia, into the rolling hills and bottomlands of northern Alabama and Mississippi and then north through the marshes and wetlands of middle-west Tennessee and ending in western Kentucky. The Tennessee River Valley offers a compelling story, captivating visitors with its little unknown facts, pristine, untouched areas and rich, authentic experiences. Save trip ideas and plan a trip easily with the Tennessee River Valley Geotourism MapGuide, an online guide of authentic places and adventures that have been recommended by locals.