Selfie Craze Comes into Focus at Nations' Leading Haunted Attractions
November 18, 2019 By Chris B.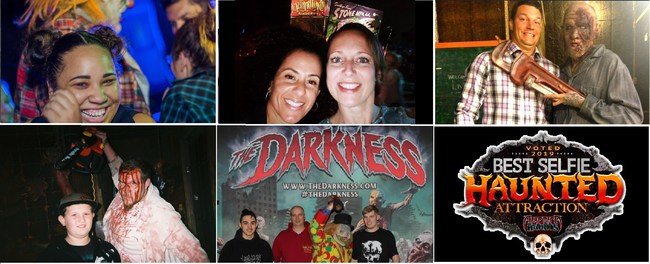 Best Haunts for Selfies Nationwide left to right: 13th Floor Haunted House, Melrose Place, IL; Netherworld, Stone Mountain, GA; 13th Floor Haunted House, San Antonio, TX, Thrillvania, Terrell, TX, The Darkness, St. Louis, MO.
Photo by:
prnewswire/America Haunts
Want to capture your spookiest selfie memories this Halloween season? America Haunts, the country's association of the most successful haunted attractions, wants to help you hunt down the most hair-raising selfies this Halloween season. They dare visitors to post their creepiest, crawliest selfies from the best haunts using hashtag #ScarySelfieChallenge. Beware you never know what spirits will follow you and surprises await.
Five haunted houses, considered mega haunts that each draw more than 40,000 visitors in a few weeks, have been recognized as the scariest selfie places to capture a memorable night of fright. While you can't take selfies inside the haunted houses, these masterminds of terror have designated camera-ready places to help tell the story of the night outside the attractions.
The 2019 top four haunted attractions where the seduction of a scary selfie is real.
About America Haunts
America Haunts is the national association of top-tier haunted attractions dedicated to excellence in fear-based, sensory entertainment, thrilling more than a million visitors annually. America Haunts' members are recognized for their longevity in the industry, technical expertise, innovative design, and relentless talent with a penchant to generate screams for fun and excitement.