Noble Scaregrounds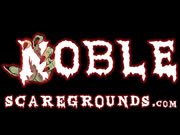 Noble Scaregrounds
14501 Etowah Road
Noble, OK
Review Us
Returning this October, the haunt in the country east of Noble Oklahoma is back and more terrifying than ever!!!

Welcome to Noble Scaregrounds... We've been expecting you!

Yes, the name has changed and so has the haunt. For 2019 we have dialed back to a single, BRAND NEW, haunted attraction.
Come, brave soul and walk the darkened paths of Noble Scaregrounds' Sweet Nightmares. Beware, for terror lurks around every corner. Festering evil watches, waits, and will come at you from every angle. The creatures, monsters, and madmen of Noble Scaregrounds have been locked away for the better part of 2 years waiting to frighten, to terrify, to horrify. After all that time, they are ALL remarkably hungry to FEED UPON YOUR DEEPEST FEARS!

Should you survive your Sweet Nightmares, come fill your belly and quench your thirst at the Gut Hut. Come find a treasure at Spellbound Souvenirs and take a piece of Noble Scaregrounds home with you.

There is a new addition at Noble Scaregrounds!!! A Brand new attraction, and to our knowledge, an experience unlike any other offered at any haunt in Oklahoma! It is simply called The Séance.
Percival (Master Blackwood if we are being formal) is an Occult detective of the highest order. Through the employment of his vast knowledge and experience, he attempts to contact spirits in order to help explain the past, to seek out the truth of events clouded in mystery and connect people with the darker aspects of human nature. Come join him, lend your energy in pursuit of the truth. Be part of the group who finally pierces the shadows and unlocks the mystery of death of young Lady Augusta Hall.

Can you survive the Coffin Challenge? Experience total darkness as you lay in a previously used transport coffin!

Meet Jester: At least, that's what we call him. No one here knows his real name, but he answers to Jester, so that's what we all call him. He just showed up at The Scaregrounds one night and started entertaining the crowds with magic, sleight of hand and occasionally off-color humour. What we do know is #1- He's a little creepy. Don't believe us? Ask him to scare your friends! Then stand back and watch him work. #2- He performs amazing magic and incredible sleight of hand. Just ask for the best coin trick in the world! Want the best of both magic and "a little creepy"? Just ask him for a spooky magic trick! #3- Watch out, be on your guard, because he's also a bit of a prankster. Even so, your humble Jester is always willing to show you around Noble Scaregrounds!

For you kindhearted saps, bring a donation for the Cedar Country Volunteer Fire Department that are onsite while we are open!

Admire the terrifyingly beautiful handmade goods at The Light Within, Candles & Gifts tent.

We will see, hear, smell, and taste you soon!

Some locations may have last minute updates due to changing circumstances. Please visit the
attraction's website
and/or social media before going to double-check that they are open.
Latest Reviews
There are no reviews for this listing yet!